Master Collection CD (2012)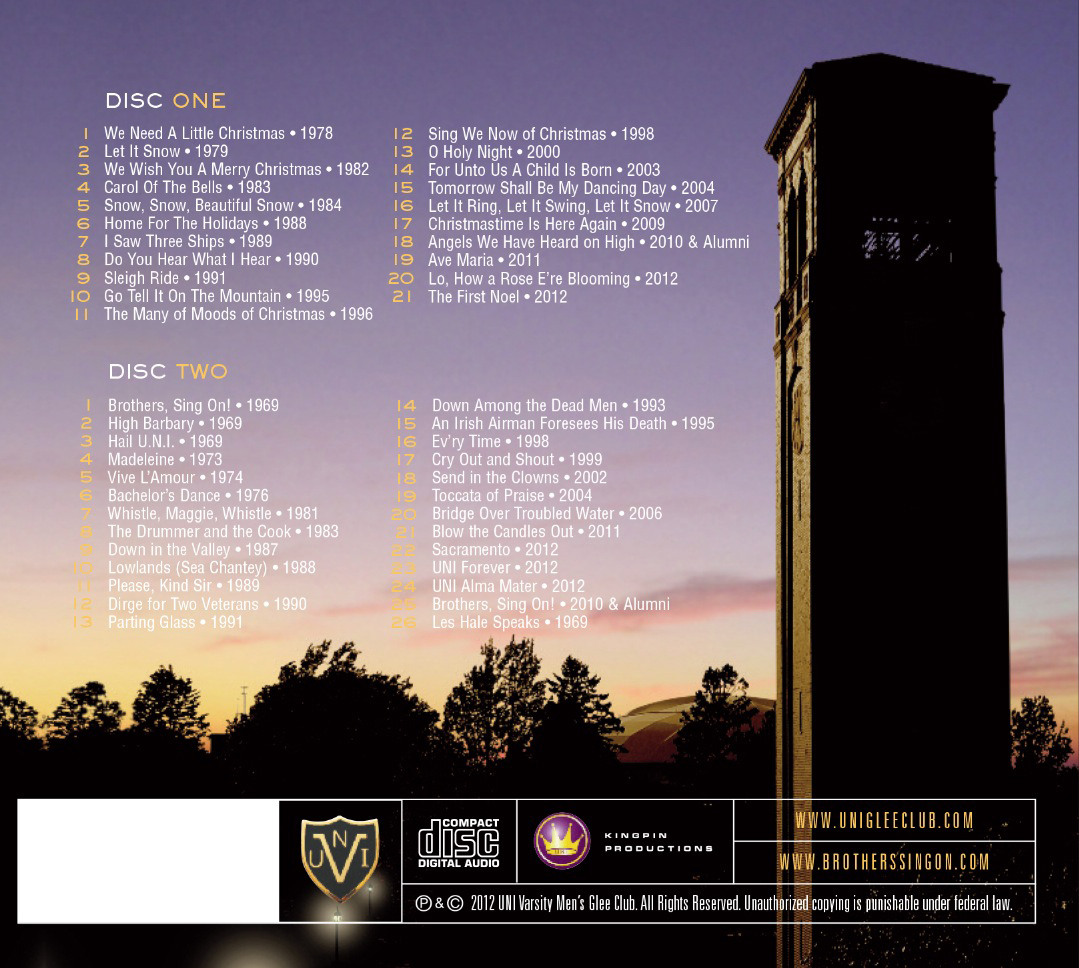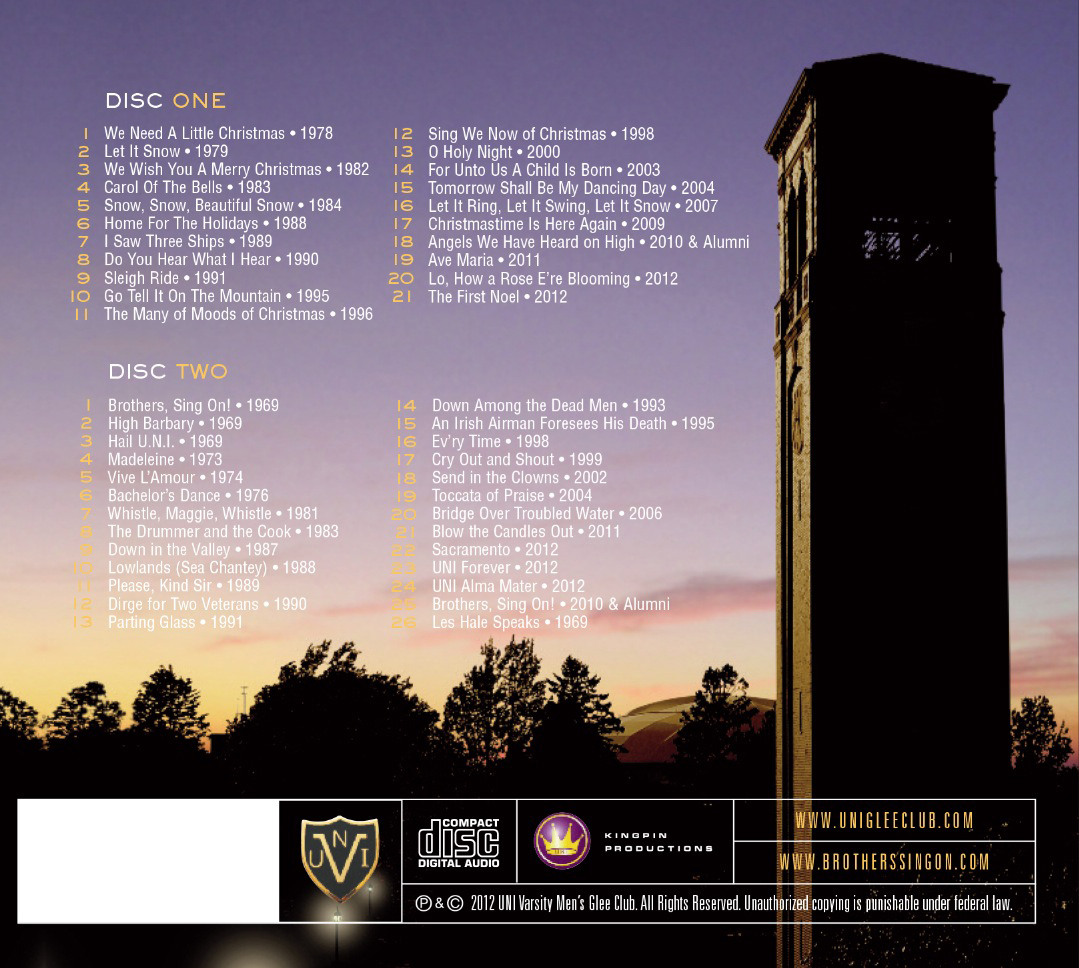 Master Collection CD (2012)
The Glee Club is pleased to offer our latest compact disc The UNI Varsity Men's Glee Club —Master Collection —47 Glee Club favorites.
The Master Collection is a 2-CD set, and is our largest CD offering to date. Disc One features all Christmas music—the best of the best from the past 36 years. Disc Two features a full spectrum of music from the Glee Club's vast repertoire of secular and sacred music. Our Master Collection is a must-have recording for any Glee Club fan!
The 47 tracks on this recording were painstakingly recovered from vintage vinyl, reel-to-reel and cassette tapes–digitized–and remastered on this master collection for your listening enjoyment.
The cover and liner notes of the Master Collection features the name of every Glee Club member that graduated from the Glee Club since 1960. The compact discs are designed to look like vinyl records from the 1960s – 1970s.
DISC ONE:
We Need A Little Christmas (Jerry Hoffman) 1978
Let It Snow (arr. William Stickles) 1979
We Wish You A Merry Christmas (arr. M. & B. Krone) 1982
Carol Of The Bells (arr. Peter Wilhousky) 1983
Snow, Snow, Beautiful Snow (arr. Hawley Ades) 1984
Home For The Holidays (Robert Allen) 1988
I Saw Three Ships (arr. Norman Luboff) 1989
Do You Hear What I Hear (arr. Harry Simeone) 1990
Sleigh Ride (arr. Michael Edwards) 1991
Go Tell It On The Mountain (arr. Howard Helvey) 1995
The Many of Moods of Christmas (Robert Shaw) 1996
Sing We Now of Christmas (arr. D. York and B. Johnson) 1998
O Holy Night (arr. Clark Duhrkopf) 2000
For Unto Us A Child Is Born (arr. Bob Byrnes) 2003
Tomorrow Shall Be My Dancing Day (arr. H. Helvey) 2004
Let It Ring, Let It Swing, Let It Snow (Mac Huff) 2007
Christmastime Is Here Again (Willard S. Fast) 2009
Angels We Have Heard on High (arr. Les Hale) 2010 & Alumni
Ave Maria (Franz Biebl) 2011
Lo, How a Rose E're Blooming (arr. A. Davison) 2012
The First Noel (arr. Fenno Heath) 2012
DISC TWO:
Brothers, Sing On! (Edvard Grieg) 1969
High Barbary (arr. Arthur E. Hall) 1969
Hail U.N.I. (unknown) 1969
Madeleine (arr. William Simon) 1973
Vive L'Amour (arr. Parker/Shaw) 1974
Bachelor's Dance (arr. John Mitri Habash) 1976
Whistle, Maggie, Whistle (arr. David Stocker) 1981
The Drummer and the Cook (arr. Parker/Shaw) 1983
Down in the Valley (arr. George Meade) 1987
Lowlands (Sea Chantey) (arr. Norman Luboff) 1988
Please, Kind Sir (P.D.Q. Bach) 1989
Dirge for Two Veterans (Gustav Holst) 1990
Parting Glass (arr. Alice Parker) 1991
Down Among the Dead Men (R. Vaughan Williams) 1993
An Irish Airman Foresees His Death (B. Adams) 1995
Ev'ry Time (arr. Royal Stanton) 1998
Cry Out and Shout (Knut Nystedt) 1999
Send in the Clowns (arr. Bob Byrnes) 2002
Toccata of Praise (Joseph Martin) 2004
Bridge Over Troubled Water (arr Kirby Shaw) 2006
Blow the Candles Out (arr. M. Richardson) 2011
Sacramento (arr. Archibald T. Davison) 2012
UNI Forever (Danny White) 2012
UNI Alma Mater (arr. Graeme Cowen) 2012
Brothers, Sing On! (Edvard Grieg) 2010 & Alumni
Les Hale Speaks • 1969